Details: "Loops and bloops" - Music of the Commodore 64 games
"Loops and bloops" - Music of the Commodore 64 games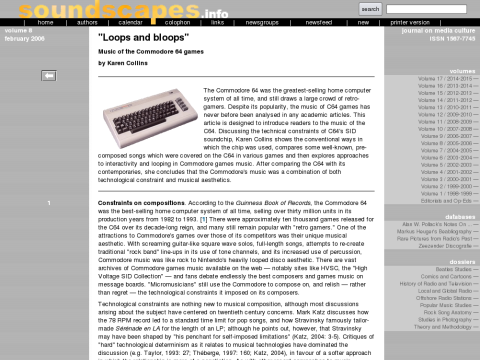 This article is designed to introduce readers to the music of the

C64

. Discussing the technical constraints of C64's

SID

soundchip, Karen Collins shows the conventional ways in which the chip was used, compares some well-known, pre-composed songs which were covered on the C64 in various games and then explores approaches to interactivity and looping in

Commodore

games music.
By Karen Collins.
URL:
http:/​/​www.icce.rug.nl/​~soundscapes/​VOLUME08/​Loops_and_bloops.shtml
Category:
Top:
/
Vintage Systems
/
Commodore
Language(s):

Tags:
article
c64
music
sid
Added: 2012-10-08
Updated: 2012-10-09
Hits: 778
EDIT
Search: