Details: Computer Emuzone
Computer Emuzone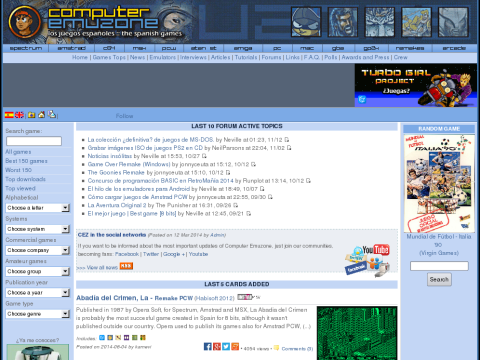 Archive that specializes in Spanish games for
Amstrad CPC
and
PCW
,
C64
,
MSX
,
Atari ST
,
Amiga
. Also features remakes for current platforms, interviews with Spanish creators, articles, and a forum.
In Computer Emuzone you'll find the best videogames, since the real classics until the new ones. How can you play them if they are not new? Simple, download an emulator for your

PC

, Mac or console and you'll feel like in the 80's.
URL:
http:/​/​computeremuzone.com/​?l=en
Category:
Top:
/
Emulation
/
Archives
Language(s):


Tags:
amiga
archive
articles
atari st
c64
cpc
forum
games
gba
gp2x
ibm pc
interviews
links
mac os
msx
pcw
remakes
software
spain
zx spectrum
Added: 2012-10-08
Updated: 2014-02-23
Hits: 690
EDIT
Search: